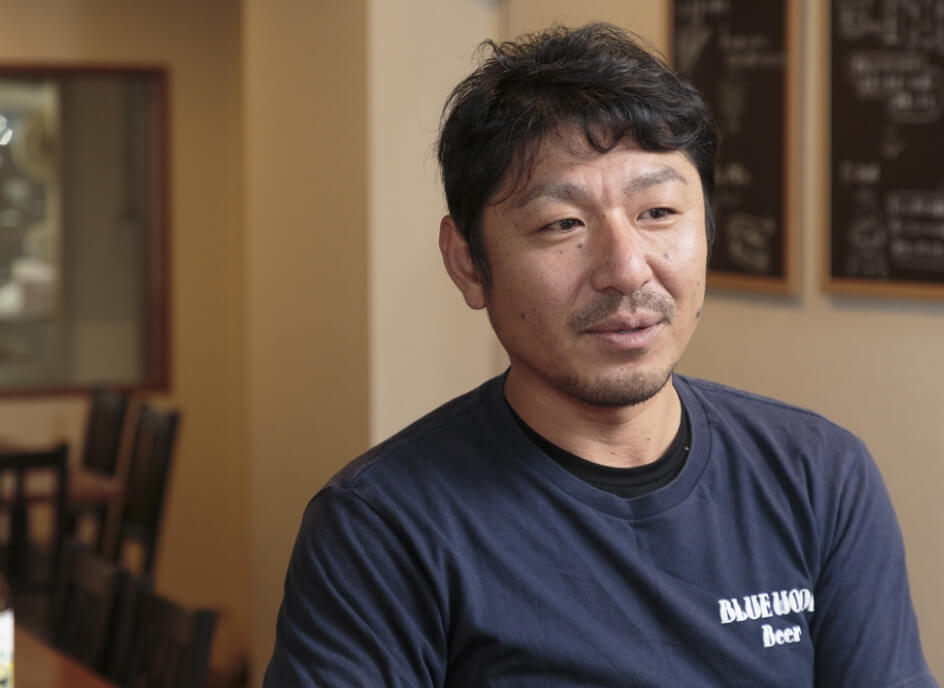 "Arida Sansho Ale and Arida Mikan Ale in particular are crowd-pleasers among people from other regions."—Kojima
Aridagawa Sansho Ale
—It pairs well with meals too
Akira Kojima, Representative of Bluewood Brewery tells us, "Beer made with sansho goes well with many types of dishes, and is also great to have alongside a meal." He brews craft beer, and is meticulous about selecting only specialty ingredients produced locally, specifically from Aridagawa Town in Wakayama Prefecture. He says, "Beer made with budo sansho has a refreshing fragrance and taste, so even with dishes that are high in oil and fat content, it clears the palate and goes down nicely."
Arida Sansho Ale is made with budo sansho fruit sourced locally in Aridagawa Town, ground carefully using a mortar, and then mixed with hops and boiled. After removing it once, half of it is added to the tank together with the beer and brewed through steeping. When drunk, the scent of the budo sansho gently passes from the back of the throat to the nose. The distinct kick of sansho is suppressed, and ultimately the gentle aroma experienced makes a meal even more satisfying. It is also popular at events and on other occasions.
The concept is to use local produce
A characteristic of Wakayama is its temperate climate, however, with many mountains and rivers, there is also rich variation in the environment, such as wide temperature difference ranges in a single day. For that reason, the region is blessed with a wealth of agricultural produce. The craft beer produced by Mr. Kojima, including Arida Mikan Ale (with mandarin), Ichigo Ale (with strawberry), Sumomo Weizen (with Japanese plum), and Mango Hazy, made with mango cultivated at Arida Chuo High School, is made with seasonal Wakayama Prefecture-produced ingredients, mainly from Aridagawa Town, and to date, around 14 or 15 varieties have been created.
In sourcing ingredients, the local connection is reassuring. Encounters with new ingredients happen when someone says, "We have this, do you want to use it?" or when people seek advice, "I would like to make something like this. How should I go about doing so?" A product brought into existence from one of these conversations is Binchotan Stout, made with binchotan, a type of white charcoal. At the time Kojima started thinking about making a black stout beer, an acquaintance gave him advice about charcoal suitable for consumption. With this, the aroma brought forth from parched malt was combined with Kishu binchotan specialty produce from Wakayama, and the craft beer was complete.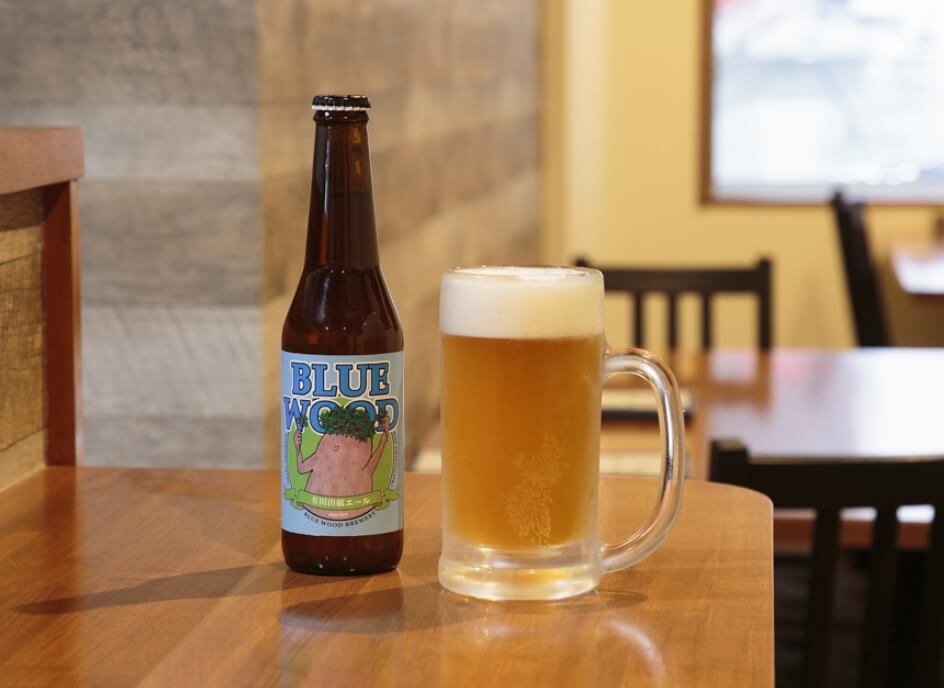 Arida Sansho Ale—The fragrance of ground budo sansho is brought out when boiled with hops