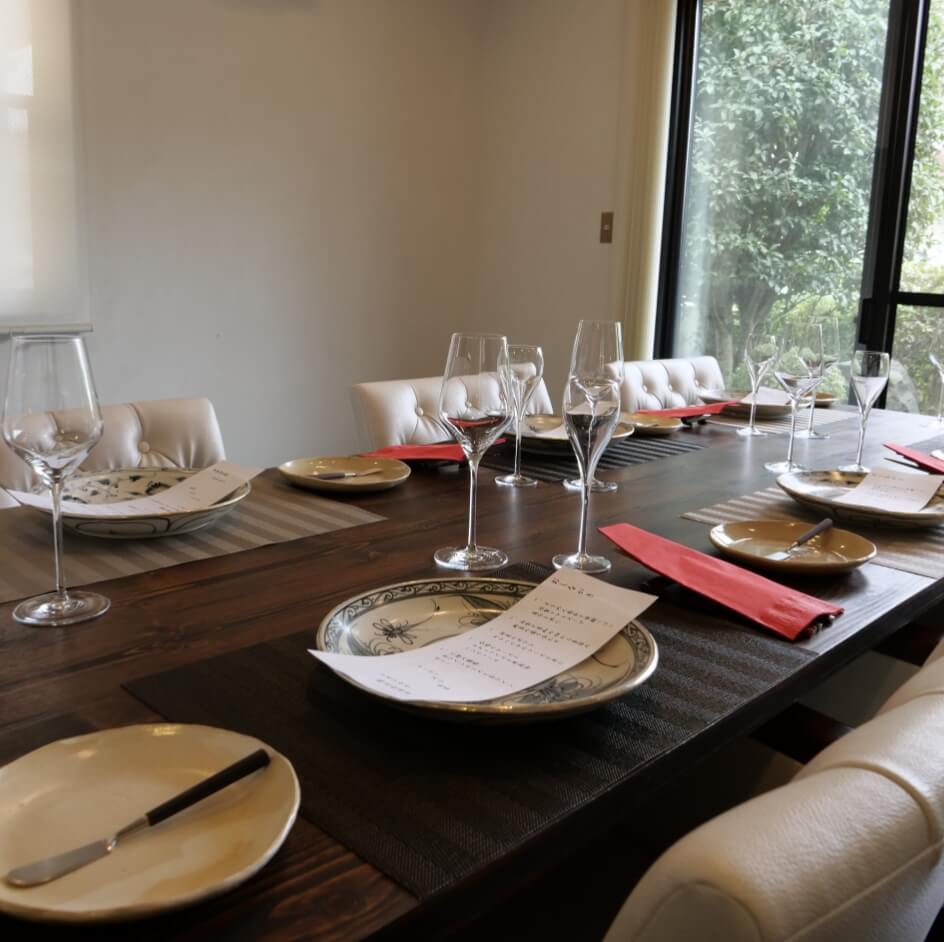 For Chef Matsuda, what is French cuisine?
"I became a French chef because I wanted to work in Europe," begins Chef Matsuda with a smile. This yearning for Europe came from his love of soccer. He had played seriously as a student, with the intention of becoming professional. "When I was a high school student, I saved up my allowance and took part in a soccer camp in Italy. I understood none of the language, but I was still able to make lots of friends. I went to their houses and had the opportunity to spend time around the kitchen table with their families. It was so much fun."
This experience lives on at Midoriyama Matsudake, a reservation-only restaurant in a house located in a residential area with lots of greenery. This hidden gem of a restaurant serves prix fixe courses, with two service intakes at lunchtime and one at dinner. Customers can enjoy their courses at a relaxed pace in a private setting, much like being invited to a close friend's house for a meal. The setting is home-style, but the food is authentic orthodox French", says Chef Matsuda, who believes that French cuisine is "food which emphasizes sauces."
Chef Matsuda's feelings about budo sansho
"French cuisine is essentially about addition," says Chef Matsuda, explaining the differences between French and Japanese cuisines. The point of Japanese cuisine is to bring out the flavors of the raw ingredients, and for chefs to show their skills through simple ways of cooking and eating. "In this way, Japanese cuisine can be said to be about subtraction." On the other hand, French cuisine seeks out flavors which add to that of the raw ingredients. Originally, fish and vegetables from each province were of varying taste and freshness, so a history of 'eating food with sauce' developed in order to provide truly delicious food. During his training throughout the various provinces of France, Chef Matsuda accumulated much experience in finishing dishes with the 'magic' of sauce. "My cooking style is classical," he says. While there are many modern French restaurants which offer subtraction-style dishes based on competing raw ingredients, Chef Matsuda wants to treasure the art of adding sauces to food.
Chef Matsuda only recently came across budo sansho. "My first impression was intense. The inside of my mouth turned numb as I bit through each grain," he laughs. "How do I bring out this spiciness and make the most of this aroma?" A number of such recollections flashed through Chef Matsuda's mind.