Salted rice malt and sansho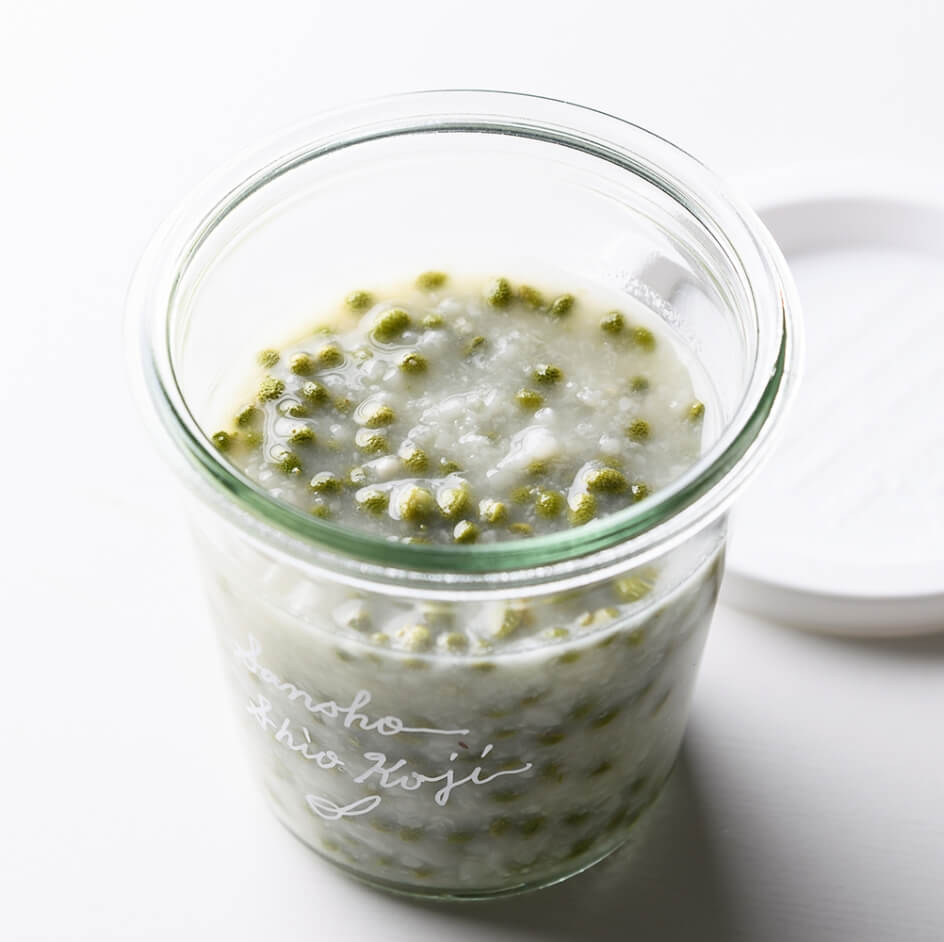 By soaking the salted rice malt (shio koji) prepared in advance and the green sansho berries (mizansho) once boiled in water, you can create a delicious seasoning accompanied with a fresh, hot taste. It delivers a winning taste when used as-is, but by adding just a little of it to your everyday meals, flavors are enhanced, and you can concoct new taste variations. It can be stored for around 1 to 3 months in the fridge.
Ingredients (easy-to-make amount)
25 g green sansho berries
50 g salted rice malt (store-bought is fine)
Instructions
Mix the salted rice malt and green sansho berries in a sealable storage container, put the lid on, and leave it for at least one day in the fridge.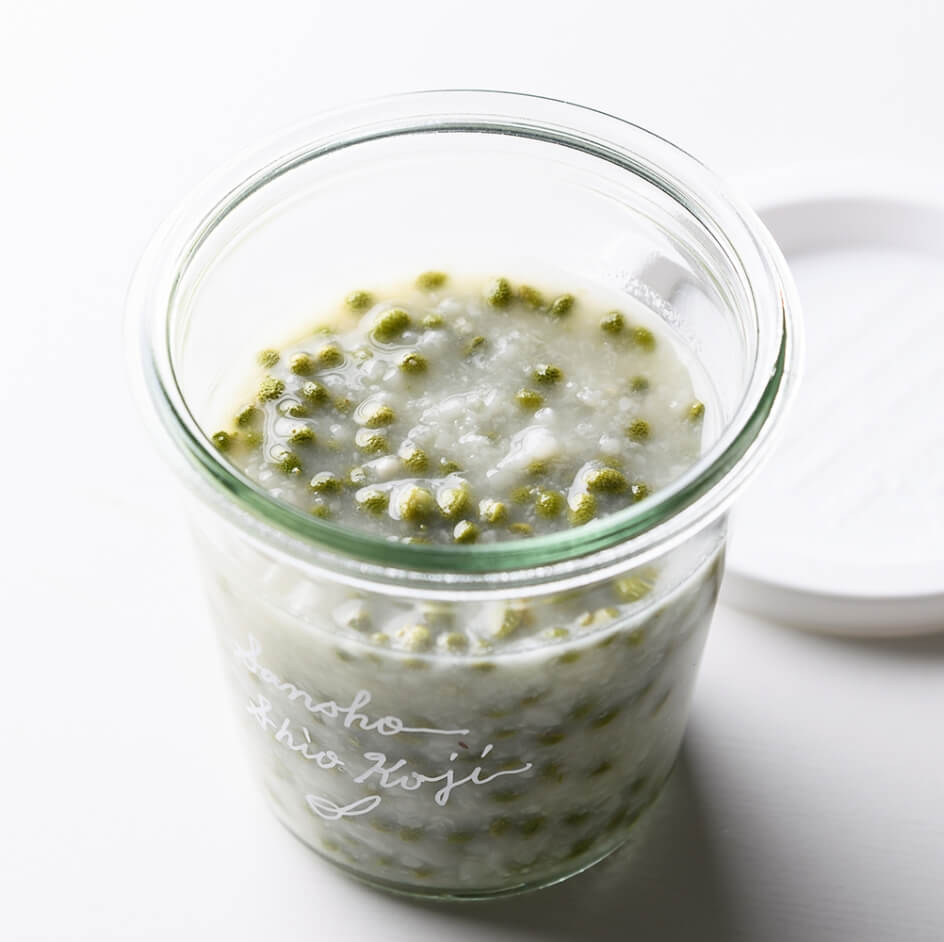 Roast pork with salted rice malt and sansho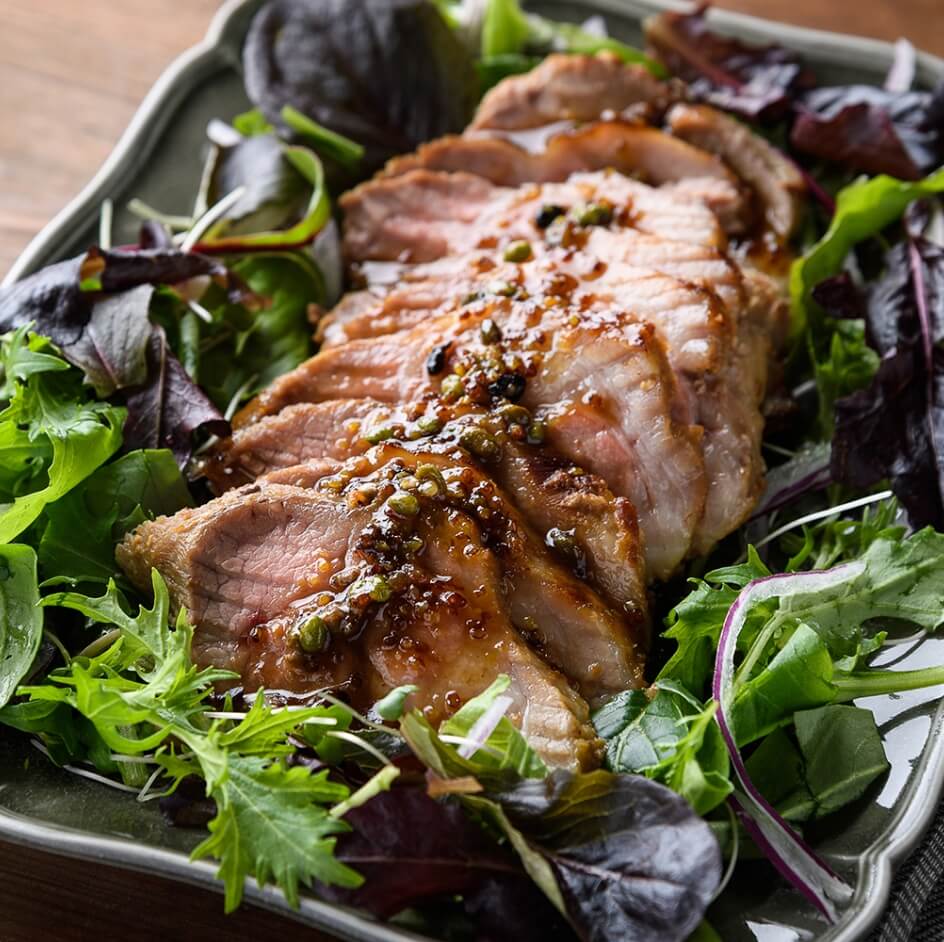 Roast pork seasoned and oven-roasted with salted rice malt and sansho. By using salted rice malt, the meat becomes juicy and tender. The hot taste of the sansho balances well with the mild sweetness of the honey mustard. Sansho makes a good match for butter and other dairy products, so it's a must to try it in cream, cheese, and other sauces too.
Ingredients (serves one)
600 g Boston butt block pork
3 tbsp salted rice malt and sansho
3 tbsp honey
1 1/2 tbsp salted butter
3 tsp seeded mustard
A little olive oil
Instructions
Prick holes over the surface of the Boston butt with a fork and wipe away the moisture from the meat.
Put the meat and salted rice malt and sansho in a zip-lock bag, remove the air and seal the bag and store in the fridge overnight or longer.
Preheat the oven to 160 degrees Celsius. Leaving the salted rice malt and sansho seasoning on the meat, fry the meat in a frypan oiled with olive oil, until it browns on both sides. Set the frypan aside as is.
Remove the meat from the frypan and put it on a baking tray, then bake it in the pre-heated oven for 15 to 20 minutes.
After baking, wrap the meat in aluminum foil, put it back inside the oven for the same amount of time you baked it for, and leave it to sit. Flip it over partway through.
Make the sauce. Using the frypan from step 3., add the juices from the meat that accumulated inside the aluminum foil, and the honey, and set it on low heat. When it comes to the boil add the butter and let it melt. Add the white wine, and once the alcohol has evaporated, add the seeded mustard, and add salt to taste if necessary.
Slice the meat from step 5. finely, arrange it on a plate and add the sauce from step 6.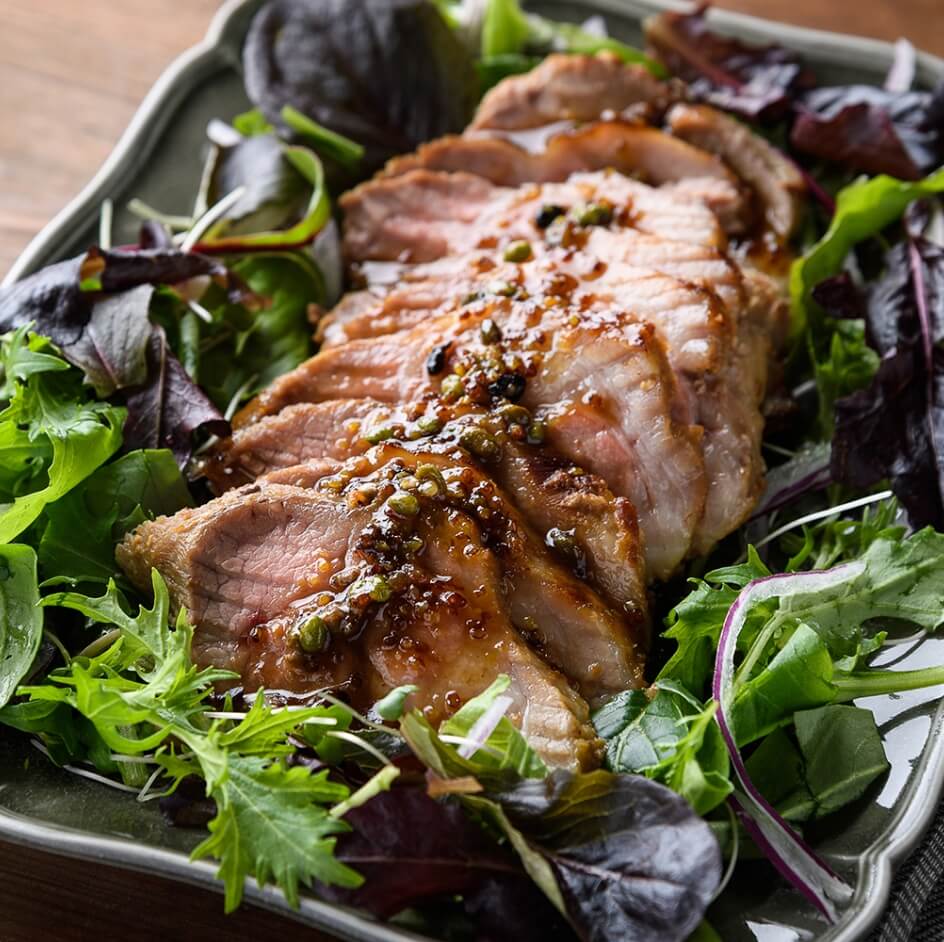 Sansho sesame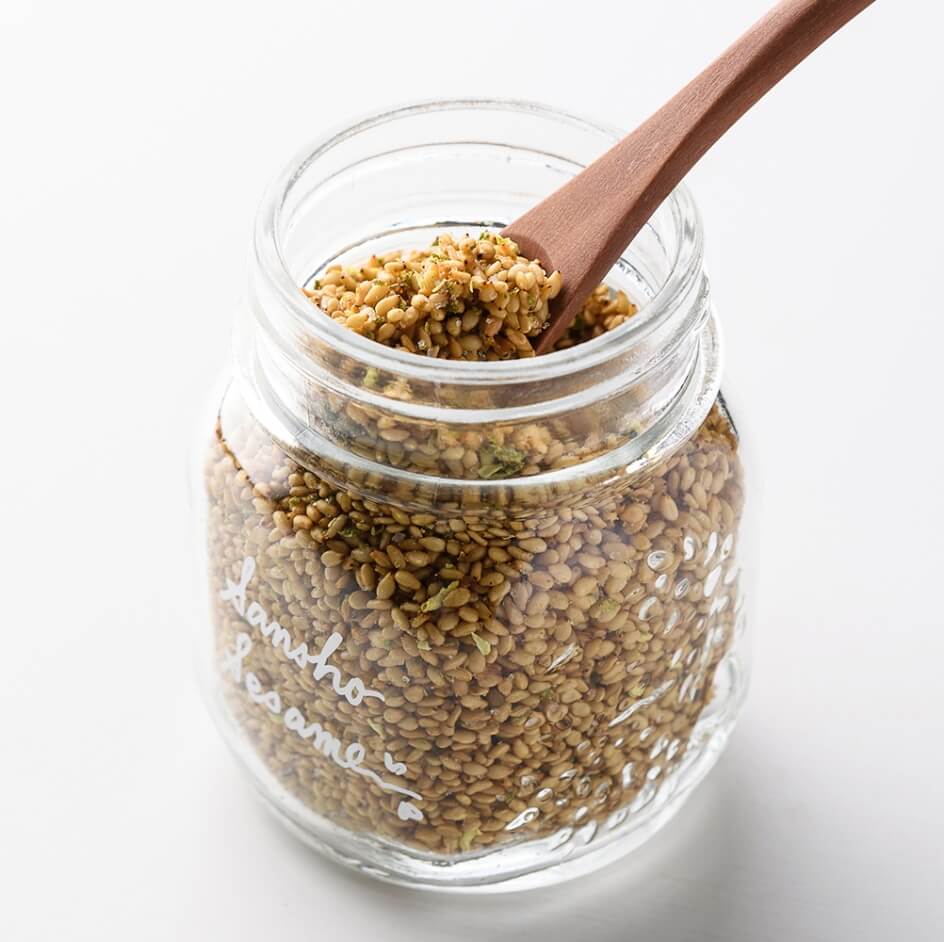 A sprinkle of freshly ground dried budo sansho gives dishes a stand-out aroma and flavor difference that cannot be matched. Sesame embellished with this ground budo sansho gives a fresh aroma that unfolds in the mouth, with irresistible flavors that take the center stage, and added to even the simplest meal, it will have you reaching for more. Store it in a sealable storage container with a desiccating agent.
Ingredients (easy-to-make amount)
50 g parched sesame seeds (white)
1 tsp sesame oil
A little ginger
1 tbsp light soy sauce
1 tbsp mirin
(2 tbsp sugar)
Salt to taste
1 tsp powdered sansho (or more to taste)
Instructions
Gently toast the parched sesame seeds in a frypan while swirling the pan.
Add the sesame oil and ginger, and when it is all mixed, fry on low heat.
Once it is crackling, add the soy sauce and mirin, then once the liquid has evaporated, turn off the heat and mix in the sugar, salt, and powdered sansho.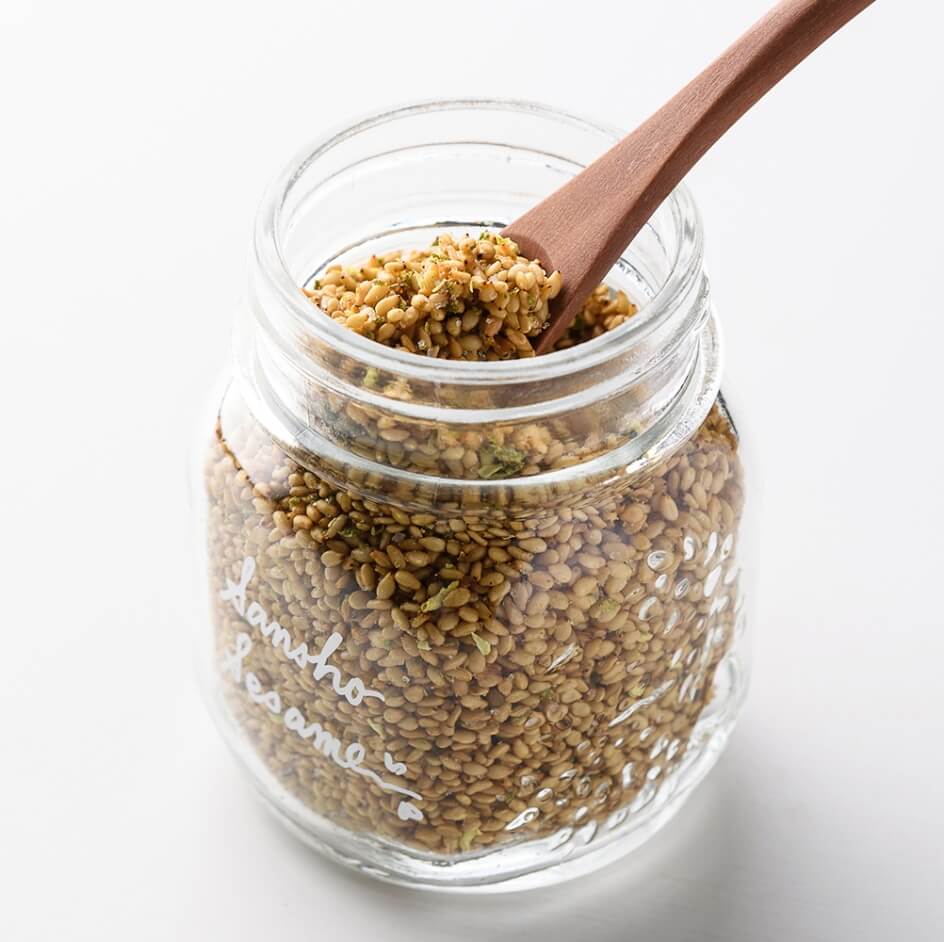 Sansho sesame mixed with inari sweetened fried tofu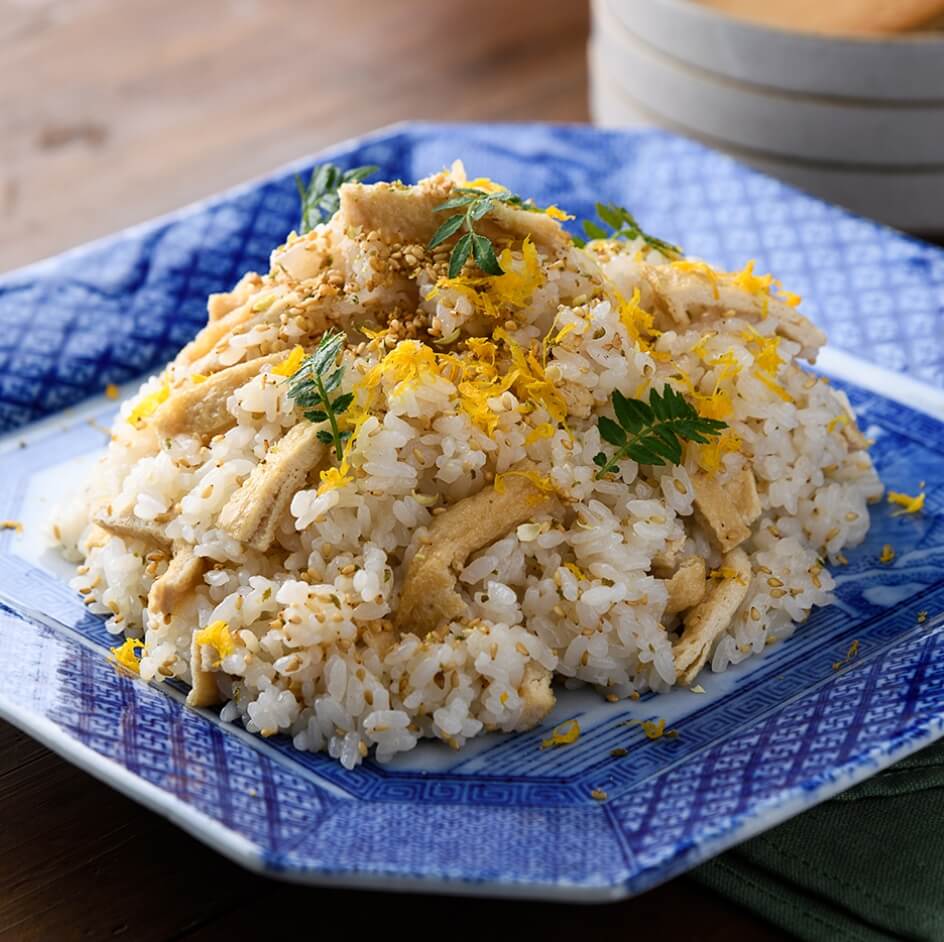 This superbly simple mixed dish with inari sweetened fried tofu is made just by mixing fried tofu (aburaage) that has been simmered to give it a light sweetness, and sansho sesame with vinegared rice. Sansho is in the citrus family of plants, and so it is a perfect match with the sour flavors of citrus. A sprinkle of grated rind from citron (yuzu), lemon or other citrus fruit, or adding a dash of juice before eating really accentuates the zest and hot taste of sansho. Serve this meal up on a big dish, share it out and eat up!
Ingredients (serves 4)
2 pieces of fried tofu—blanch in boiling water to remove the oil, drain, and cut into rectangular slices
The following 3 items combined as "A":
40 ml clear stock (shirodashi)
200 ml water
2 tbsp each of mirin and sugar
2 x 180 ml cups of rice (rinsed)
360 ml water
20 g kelp (kombu)
The following 3 items combined as "B":
2 tbsp vinegar
1 tbsp sugar
A pinch of salt
2 tbsp sansho sesame (or more to taste)
A few sansho young leaf buds (kinome)
A little citron (yuzu) peel
Instructions
Boil the fried tofu. Put the "A" ingredients to a saucepan and bring to the boil on medium heat. Once it has boiled, add the fried tofu, place a small lid inside the pot directly onto the food and simmer on low heat until the liquid has mostly evaporated. (It's even better if you can make this a day ahead because the flavors infuse.)
Cook the rice. Place the water and rice inside the rice cooker bowl, add the kelp and leave for 30 minutes. Before switching on the heat, add the "B" ingredients and mix gently. Switch on the rice cooker and cook as usual.
When the rice has cooked, take it out and put it on the benchtop, add the ingredients from 1. and the sansho sesame, and mix it all together gently as if you are cutting through the rice (not stirring).
When cooked, serve it up on a plate and garnish with citron peel and sansho leaves.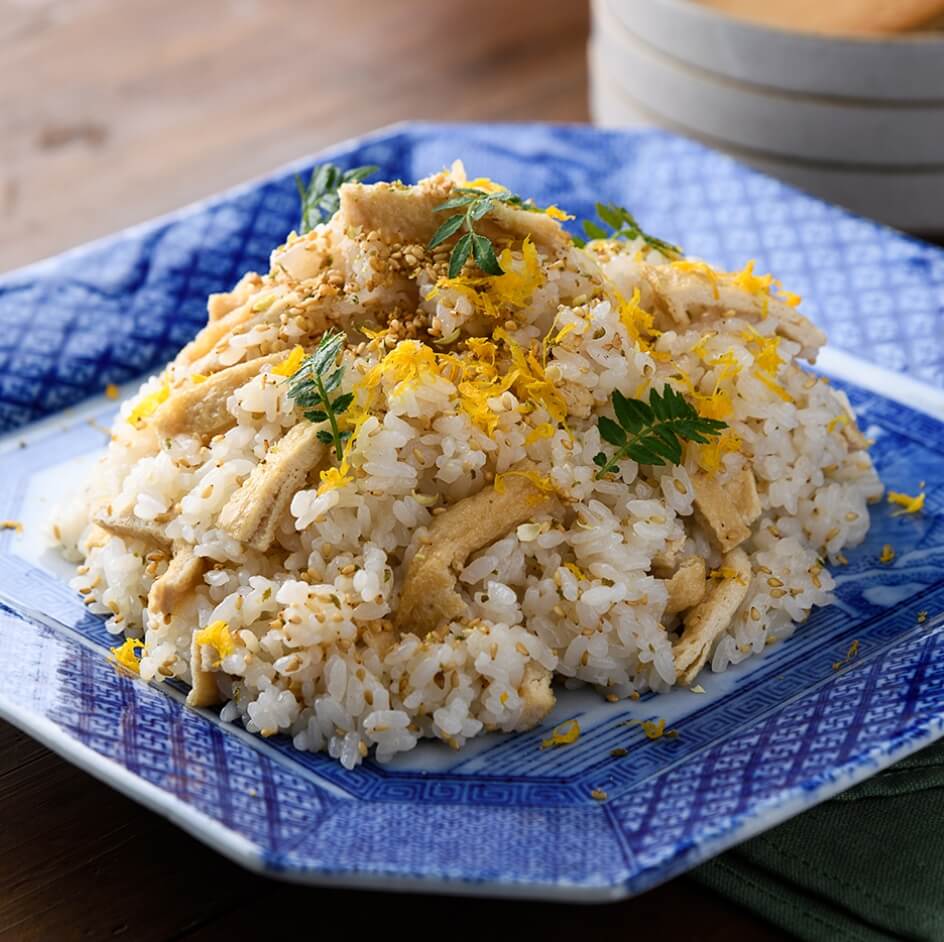 Soy sauce and sansho stock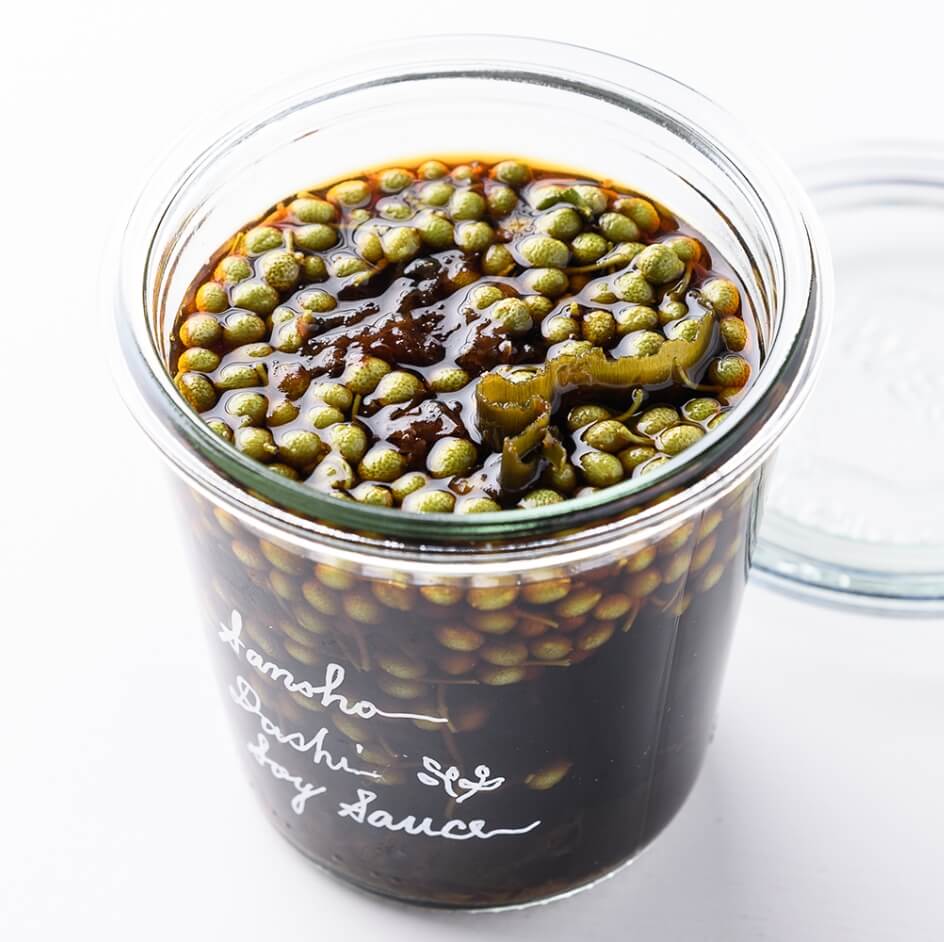 Sansho is soused in a rich and tempting stock and soy sauce mixture (dashi shoyu). You can create a delicious dipping sauce or soup just by adding water to the stock and soy mixture, which cuts back on preparation time. Add it to noodles, or use in boiled dishes, to dress vegetables and meats, or add to stir fries. The zesty taste of the sansho creates an accent, creating a refreshing aftertaste that will leave you wanting more.
Ingredients (easy-to-make amount)
1 tbsp green sansho berries (store-bought is fine)
100 ml Japanese sake (Junmai shu, for drinking)
100 ml soy sauce and 5 g kelp (kombu) (scored)
5 g dried bonito shavings (katsuobushi)
Instructions
Heat the sake in a small saucepan on medium heat until the alcohol evaporates.
Boil down the sake until the acrid smell has disappeared, and add the soy sauce and kelp.
Add the dried bonito shavings to the saucepan, and take it off the heat. Add the green sansho berries, leave to cool and then transfer to a storage container.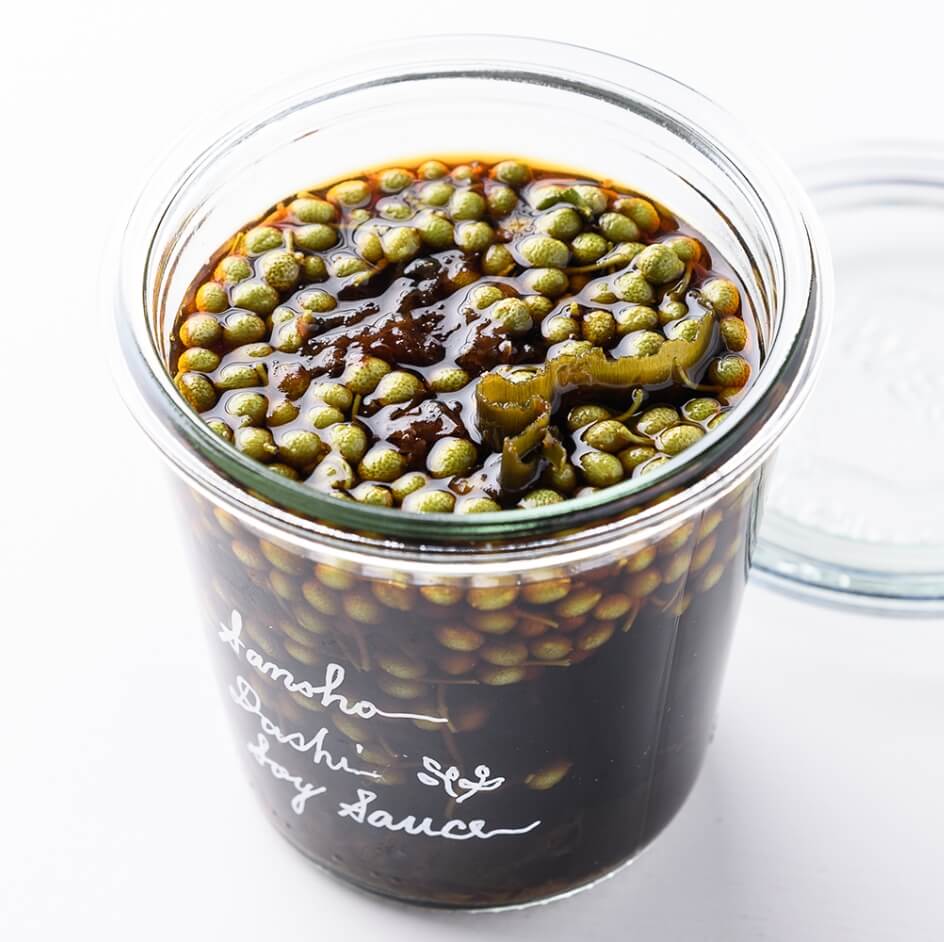 Tomato soba noodles in a soy sauce and sansho broth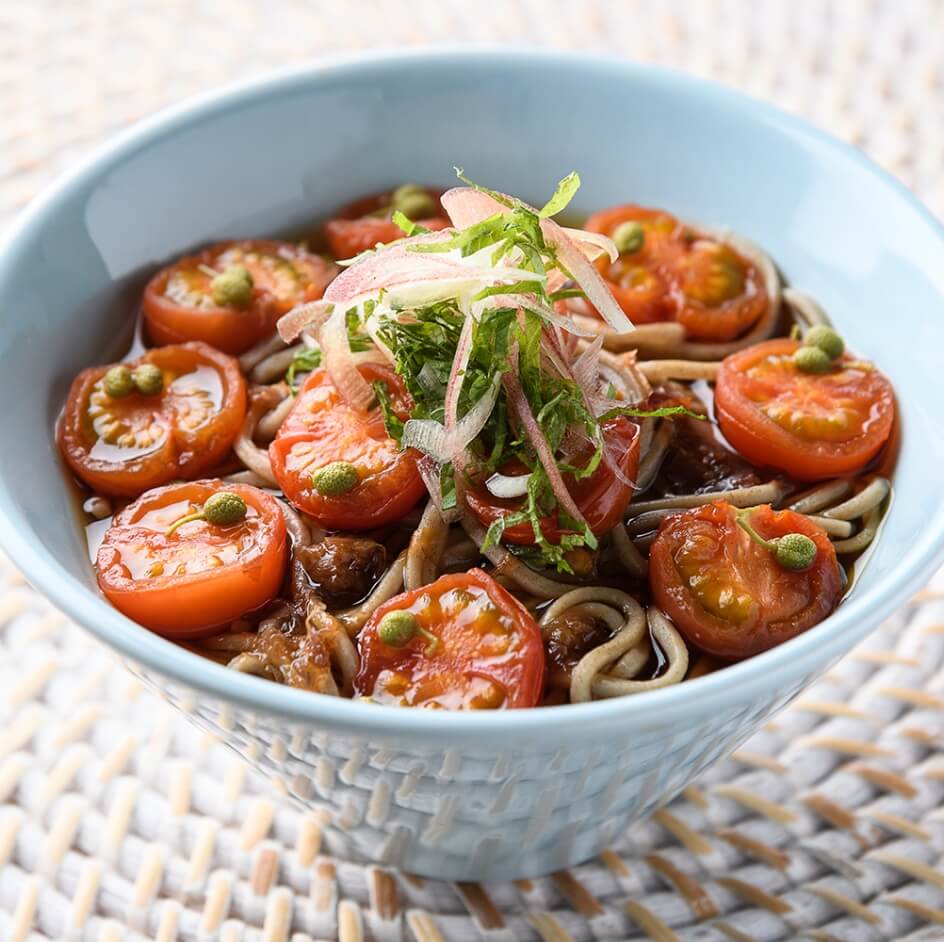 Soba noodles with an exquisite combination of the sweet-tartness of tomato and the sharp spice of sansho. Best eaten with lightly boiled tomatoes, crushed and intertwined with the noodles. In summer, chill the noodle soup well and enjoy with fine noodles (soumen) and plenty of seasonings! You won't be able to put down your chopsticks as you devour these deliciously moreish noodles
Ingredients (serves one)
5 cherry tomatoes (cut in half)
1 bundle soba noodles
1 bulb Japanese ginger (myoga)
3 perilla (shiso) leaves (julienned)
50 ml soy sauce and sansho stock
Dried bonito shavings (katsuobushi) to taste
150 ml water
Instructions
Boil water in a saucepan and cook the soba noodles.
In a small saucepan, combine the soy sauce and sansho stock and water, add the dried bonito shavings and green sansho berries and heat. Once it comes to the boil add the tomatoes and boil for about 2 minutes.
Put the cooked and drained soba noodles in a bowl, pour the broth made in the small saucepan over the top, and garnish with Japanese ginger and perilla leaves.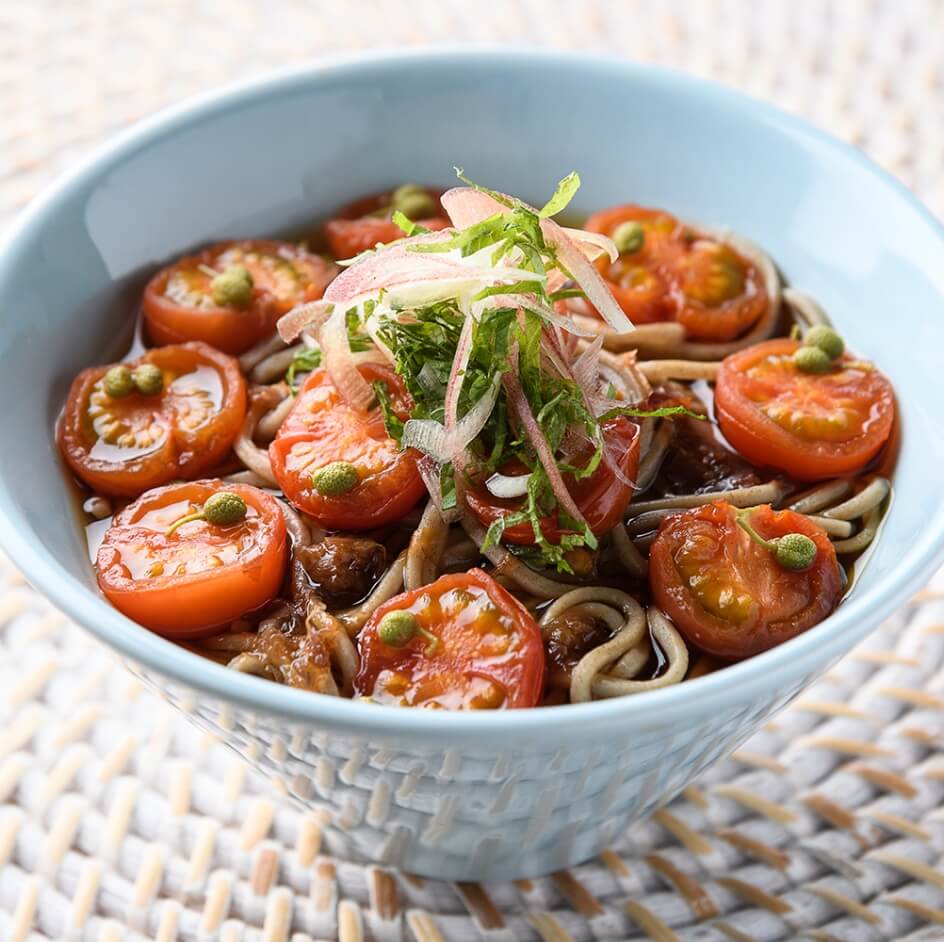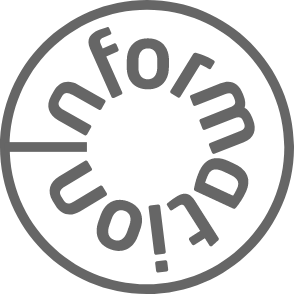 atrio Inc.
Our Mission
Even amongst people with divergent lifestyles, finding pleasure in eating delicious food remains universal. People, things, and ideas gather, centering around those foods, and from there, new discoveries and ideas are born, take form, and once again spread out to others…. At Atrio, we want to be the place to compile such delicious content.