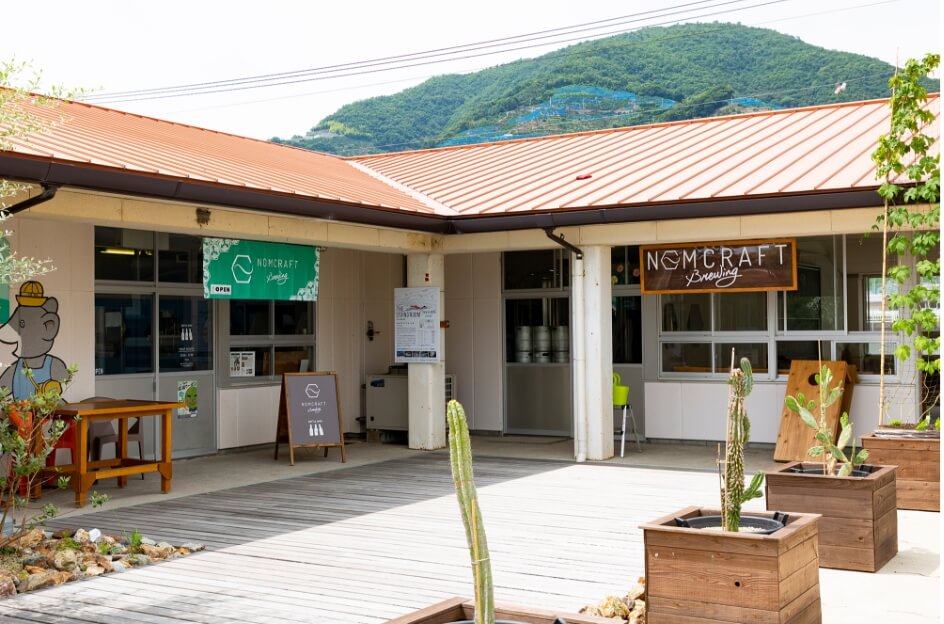 NOMCRAFT Brewing, operating at the mixed-use facility of a redeveloped preschool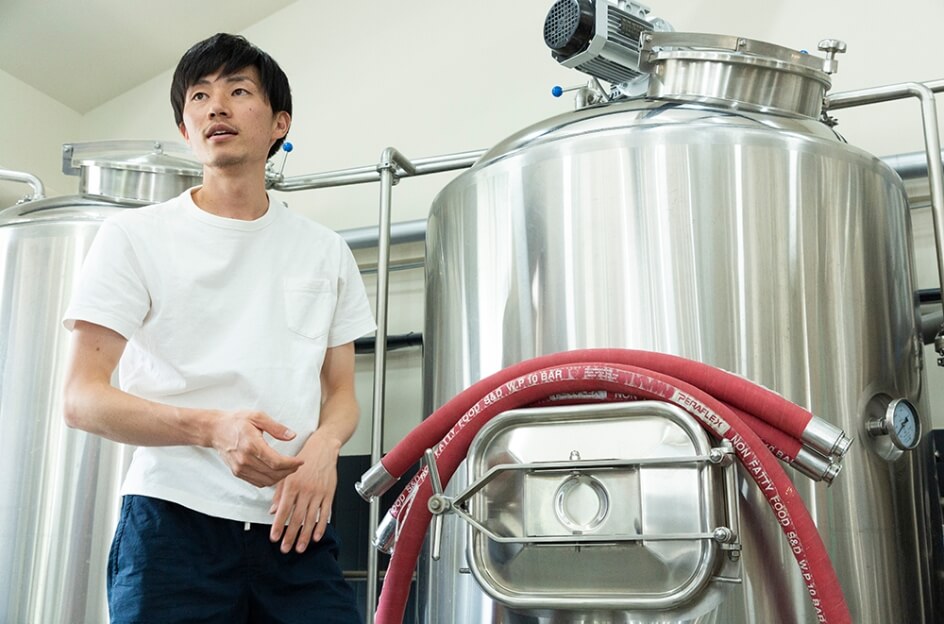 Takumi Kaneko—Brewer & PR Manager
What is there gives this craft beer a unique character
surrounded by expansive mikan (mandarin) groves stretching along the Aridagawa River, the vermilion-colored roof of NOMCRAFT Brewing ("Nomcraft") stands out against the green of the mountains and blue skies.
Nomcraft, which opened in 2016 on the site of a closed preschool, is a craft brewery run by Ben Emrich from Portland, USA, Adam Baran from Chicago, and Takumi Kaneko from Aichi Prefecture, who produce beer.
"IPA (Indian Pale Ale) and Golden Ale are the two beers brewed for the regular menu lineup. In addition, brews include an original beer of the month, and beers made using mikan and dekopon (sumo mandarin) harvested in Aridagawa town, honey with bergamot, and other ingredients."
At Nomcraft, dozens of varieties of hops from Germany, Belgium, Canada and the United States are used, and about 40 different types, and 25 tons of beer have been brewed to date. Meanwhile, feelings of wondering—can't we make the most of ingredients with local roots in our beer making? —grew stronger.
"The building blocks in beer making are water, hops, yeast, and the secondary products that determine the character of the beer. Designing the flavors by combining aromas and bitterness, is where you demonstrate your skill as a brewer. Budo sansho was the perfect ingredient for us to give expression to the exhilaration and hoppiness that we're known for. Also, when you run a brewery in Aridagawa, there is no way that you're going to avoid budo sansho!"—Kaneko-san gives a laugh.
Nice and gently invigorating, Budo Sansho Beer
Nomcraft currently has two budo sansho beers in its lineup, SANSHO NOMCRAFT IPA and NOMNOM SANSHO GOLDEN. Each of the regular menu craft beers has budo sansho produced in Aridagawa added to it.
Kaneko-san explains, "Five types of hops are used in SANSHO NOMCRAFT IPA. You'll notice a citrusy, tropical flavor and a subtle sansho invigoration that tingles the throat. NOMNOM SANSHO GOLDEN was produced with special emphasis on giving a refreshing feeling. You can enjoy sophisticated and elegant flavors, making it a beer of choice any time, any place—as a drink after work, or at a BBQ on the weekend."
As you take a sip, you find aromas of fruit in season, tropical flavors, and an exhilarating sensation that pierces the nasal passages.
"Our feature is IPA, one that is based on an American IPA with an emphasis on the bitterness and aroma of the hops. We really want everyone to get a taste of the elegant and refreshing hoppiness that can be felt when hops are added liberally," says Kaneko-san.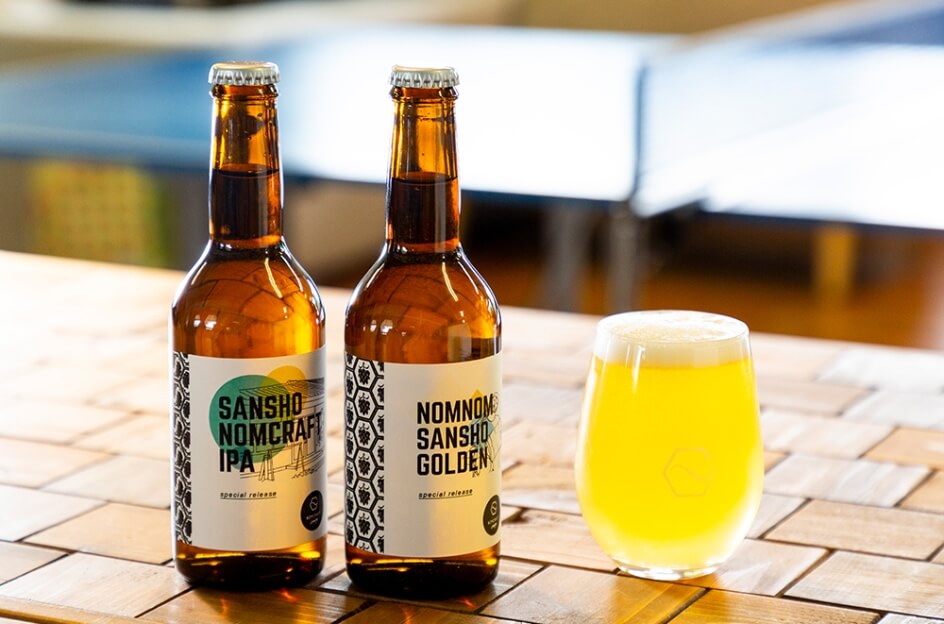 SANSHO NOMCRAFT IPA, and NOMNOM SANSHO GOLDEN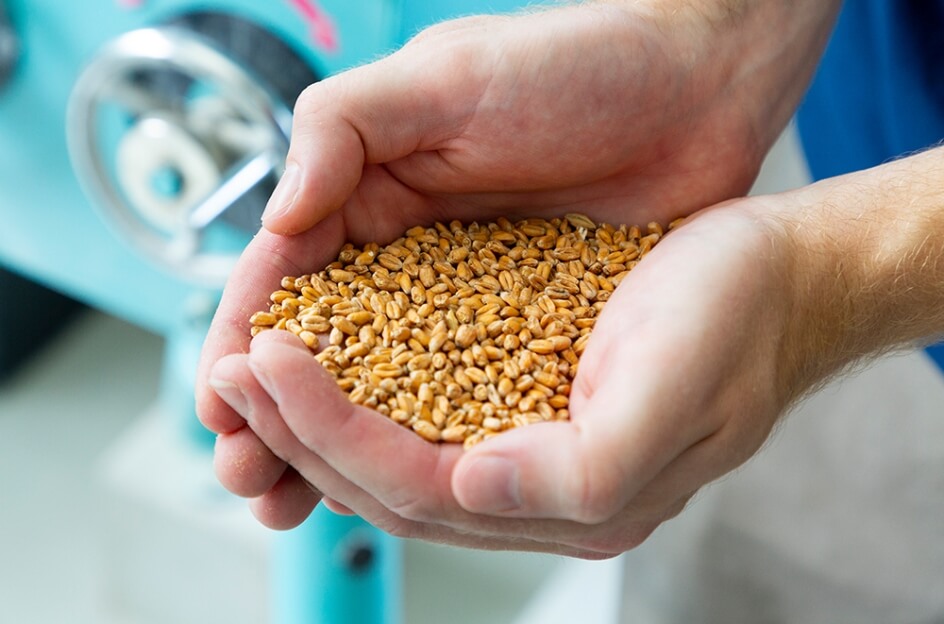 Malt that defines the taste and flavor of craft beer