What is budo sansho ?
Budo sansho is a spice specially produced in Japan that has a fragrant scent and then gives a tantalizing kick with a mildly hot taste when eaten. There are several varieties of sansho cultivated, including Asakura sansho in Hyogo Prefecture and Takahara sansho in Gifu Prefecture, however, the variety cultivated in Wakayama Prefecture is characterized by vines of large berries in clusters that resemble bunches of grapes, and as such, it is called budo sansho, (budo meaning grape in Japanese). Wakayama Prefecture is the region boasting the largest production of sansho in Japan, cultivating budo sansho. Further, cultivation centers around Aridagawa Town here, extending across the Aridagawa river basin. Compared to other varieties, another characteristic of budo sansho is its thick pericarp. In early summer, fresh and luscious green fruit forms.
Since ancient times, sansho has been utilized as a natural medicine and as a seasoning in various types of cooking. In Aridagawa Town, a range of initiatives have been taken by local people as central figures to expand the possibilities and applications for budo sansho. Locals are creating, for example, new seasonings, ingredients, sweets, cakes, and recipes; working in collaboration with food companies and chefs; and conducting other activities. Here, we introduce budo sansho and those initiatives.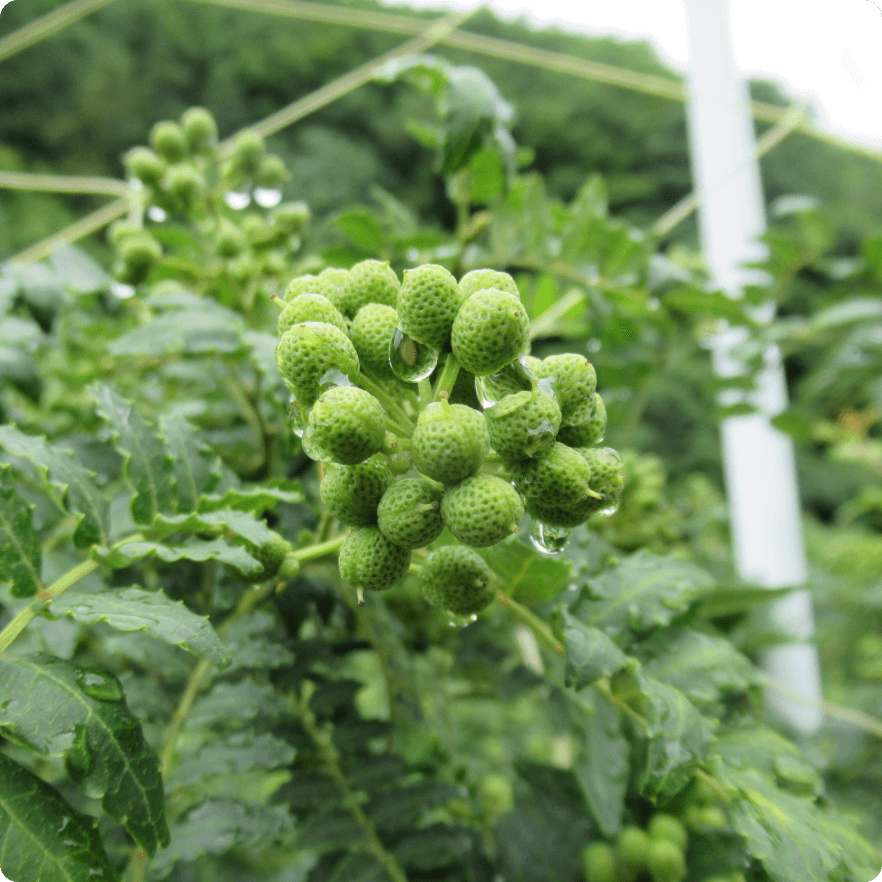 Extensive uses of budo sansho
In addition to conventional uses as a spice, new applications are evolving, to take advantage of the delights of budo sansho. In this section we introduce the fragrances world where those efficacies are attracting attention, and also the expansion of budo sansho into alcoholic beverages, which is already drawing keen interest.
Recipes with budo sansho
Here, food writer, food coordinator, researcher on cooking with stock, dried foods maestro, contributor to creating various food hits, and representative of Atrio Inc., Emiko Yashiro introduces recipes with budo sansho.

YasaiyaSai, a popular restaurant in Wakayama, serves Spanish and Basque Country food featuring locally produced vegetables matched with roasted or simmered meats and the like, and ingredients are prepared in a simple manner. Chef Nakanishi introduces budo sansho recipes.
The appeal of budo sansho as told by professionals
From western-style and Japanese-style chefs to a bartender. Professionals from the food and beverage industry give their impressions on budo sansho. We actually had them create menus using budo sansho.
Links
Migration / Settlement Support